(By the way, that's the most comments I've gotten in a year, from that last post.  I'm glad you all feel so vindicated/inspired by my crazy.  And, yes, if you're not watching Downton Abbey, go get Season #1 from Netflix and start the happy.)
Okay, so this one is an actual VEHICLE breakdown, not a mental parental breakdown. 
We were heading out to Ryan's uncle's cabin for an overnighter with Ryan's parents.  Ryan started out by NOT taking the bumpy road shortcut (we differ greatly on necessity of using this AWESOME shortcut) and so we got separated.  I had Gabe, Seth and Faith in my van and we were happily cruising the 50 minute drive to the lake cabin in Idaho. 
We only visit this cabin once a year and so I needed my handy Google Map GPS on my phone to get me there.  We were approximately 5 miles from our destination and I made the turn onto a road, as directed by my phone.  As I drove down the road, I ended in a driveway and realized I'd taken a wrong turn.  I went to turn around and started slipping on the packed, icy snow.  I got a little worried because my tires aren't great but just figured we'd inch out of there and be on our way.
There wasn't a lot of inching, just a lot of tired spinning.
I decided to reverse out of the driveway, considering that reverse generally has more power for getting out of these situations. I put the car in reverse and at the last second decided to check behind me to see where I was going. 
Where I was going was over the edge of a steep hill.  Seriously.  My tire was literally on the edge of a 45 degree inclined hill into 195 trees.  With 3 kids in the car.  In the pitch black.  In 6 inches of snow.
(This is a picture from the area where I was.  Picture this with snow and at nighttime.  And my van's not quite this nice.)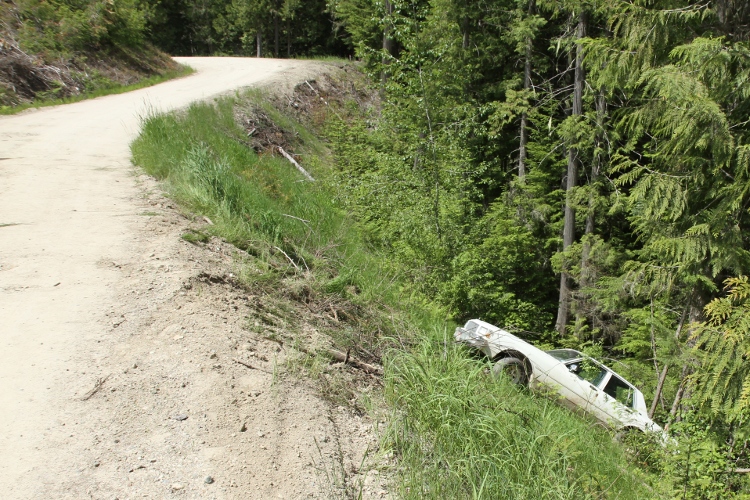 Yikes.  This is one of those times where in my head, for a few seconds, I think "Where is the adult that is going to get me out of this?!"  And then I realize that I'm the only adult around.  It's kind of a bummer.  (Do you ever do that?)
So, I tried to go forward one more time and immediately one of my tires went ACTUALLY OVER THE EDGE of the hill and so then I was really freaking out.  Luckily, we were 50 yards from a house and so my kids and I said a little prayer that the homeowner would be there and nice and I headed up to knock on this random stranger's door in the middle of a mountain.
She was 85 years old and so nice (actually remarking later that she was happy for the adventure on a boring Friday night).  The kids watched Disney channel, I got a hold of Ryan, she got a hold of her neighbor who has a CAT and agreed to come drag us out.
The neighbor showed up, a little tipsy (but he was Russian and, due to his mission experience, Ryan enjoys drunk Russians) and he hooked up our van to his tow thingie and yanked us out.  Ryan insisted on paying him and then realized that I had no checks and had only $8 in my wallet and so it was super embarrassing to insist on paying someone a measly $8 but whatever. 
And then we drove the rest of the way to the Romney's cabin and had a wonderful night.
And that's the end of my other crazy story from last week.  (But isn't that so lucky we didn't slide over the edge of a steep hill covered with trees?!)